Research reactors – These reactors are mainly used for research purpose. E.g. FBTR, Kamini, Apsara etc.
Nuclear Fuel:
The essential ingredient of a nuclear fuel is a fissionable material i.e. a substance that readily undergoes fission when struck by neutrons.
Fissile and Fertile:
The only naturally occurring nuclear fuel is uranium which contains two isotopes of U-238(99.3%) and U-235(0.7%). Out of this U-235 only is fissionable by slow neutrons and is called fissile fuel. The remaining isotope U-238 can be converted into a fissionable substance called plutonium (Pu-239) when bombarded by neutrons. Hence U-238 is called Fertile.
Thorium-232 is also fertile material and can be similarly converted into a fissile material called U-233 by nuclear reaction.
Enrichment:
The artificial method of increasing proportion of U-235 to U238 is called as enrichment. So enriched uranium fuel means fuel having a higher fissionable content than that of natural uranium. The advantages of enriched fuel are
-Physically smaller reactors can be built.
-More energy can be extracted from the fuel before it is replaced.
-Many of the reactors use slightly enriched uranium. In the BWR type of reactor slightly enriched uranium is used. In our FBTR enriched Uranium is used along with Plutonium.
Other parts of reactor are
Coolants, Heat-exchangers, Pumps, Electrical systems, Reactor control system etc.
Typical Reactors:
Some of the typical reactors used in India for generation of electrical power are:
Boiling water reactor (BWR):
In this reactor the enriched uranium oxide is used as the fuel and light water is used as the coolant and moderator. This is a thermal reactor. The water is circulated by a pump and the water boils in the reactor vessel itself. The steam produced is fed directly to turbine. In BWR, the steam is generated in the core itself.
The reactor pressure vessel has to be strong and is enclosed in concrete containment vessel to prevent hazard from the failure of the pressurised circuit.
The exhaust steam from turbine is condensed and the condensate is sent back to the reactor core through a feed pump. Another pump is used for recirculating the coolant in the reactor vessel before converting to steam.
In Tarapur Atomic power station two BWR's are used for power generation of 210MWe each.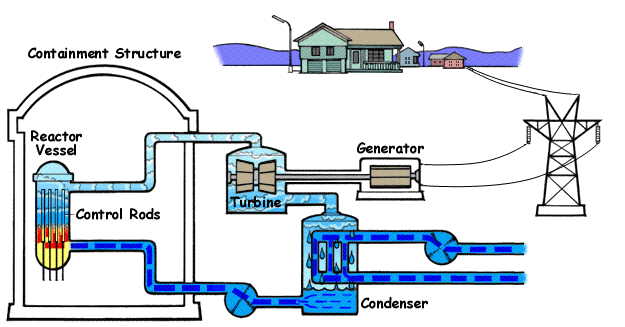 Pressurized water reactor (PWR):
PWRs keep water under pressure so that it gets heat, but does not boil. Water from the reactor and the water in the steam generator that is turned into steam never mix. In this way, most of the radioactivity stays in the reactor area.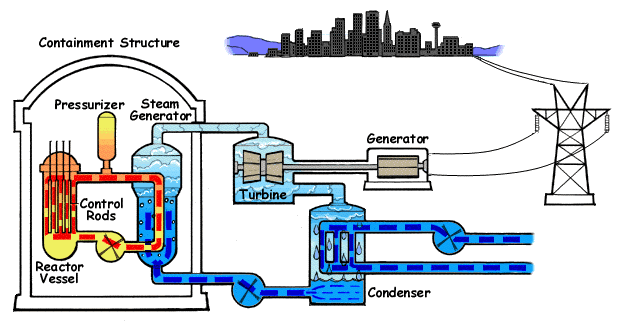 CANDU type reactor:
The series of power reactors developed in Canada are called as "CANDU" reactor in short for Canada-Deuterium-Uranium.
Fast Breeder Test Reactor:
This is test reactor. Fast neutrons cause the fission. The fuel burn-up or depletion is offset to some extent by breeding (i.e. by converting fertile to fissile material). Hence it is named as Fast Breeder Test Reactor (FBTR).
Three Stage Nuclear Power Programme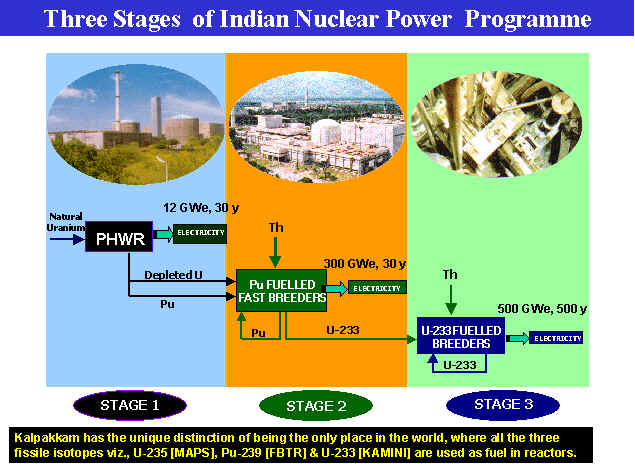 Nuclear Reactors in India
Research Reactors

Power Reactors in Operation

Power Reactors

under Construction